Welcome to the Page's Knives and Sunshadow Design
Let me tell you a little about myself.
I have been working with metal since age 10. I worked in trade shops and high end jewelry stores doing repairs and custom fabrications as a bench jeweler for several years to refine the mechanics of my craft, while developing my own stylistic approach to goldsmithing. Utilizing traditional jewelry techniques, including repousse, solid fabrication, forging, sand casting and lost wax casting, I work primarily in 14 karat gold and sterling silver, but use other metals as appropriate. Decorative metal work is one of the oldest forms of art. Many of my designs are based upon historical pieces, updated with a contemporary flair and an eye towards new stone and metal combinations. I very much enjoy the collaborative process involved in working with clients to design custom pieces that combine their unique style with my artistic metal representations, so if you would like me to create something extra special, Email me at: page@sunshadowdesign.com or call me at (315) 480-4993.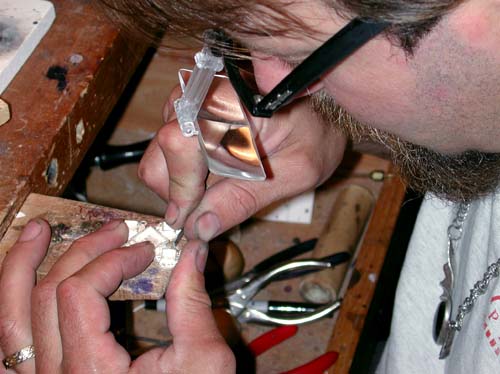 One of my sidelines is making knives. I used to make a couple per year, now it has become a full time business all on its own. I have done my own iron smelting as well as participating in smelts run by Michael McCarthy and Kevin Cashen starting with ore and charcoal, and ending up with steel. I have been exploring making Damascus Steels and replicating historical patternwelds and what I can do with them as well. Why just make a beautiful functional knife when I can make the steel beautiful, then make a a beautiful functional knife out of it. In the process of researching how to accurately replicate a 13th Century knife I studied enough metallurgy to end up with a job as a metallurgical associate engineer in an aerospace metals plant
I began making fencing swords in 1987, when I started fencing in the Society for Creative Anachronism. I wasn't able to find any well made fencing sword hilts on the market, so I made myself one. People started to ask me to make them swords, and eventually custom fencing swords became a regular part of my business.
In 2017 I competed on the History Channel show Forged in Fire and won
Forged in Fire Season 4 Episode 6
https://www.dailymotion.com/video/x6lqfm9
then I was asked to compete on the History channel show "Knife or Death" which I made a sword for, I did not win, but my sword performed quite well despite my utter lack of physical conditioning

History Channel Forged in Fire Knife or Death Season 2 Episode 1
https://www.dailymotion.com/video/x6uqya2
Email me! page@sunshadowdesign.com
Please follow this link to view a gallery of some of my work